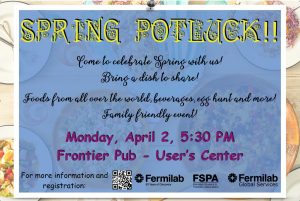 We will be hosting an International Spring Potluck Party on Moday, April 2 at 5:30pm in the Users Center.
The idea is that each of you brings a dish to share that is typical for the cuisine of your culture. FSPA will provide some beverages, plates, napkins, forks, knives and spoons.
This is going to be a family friendly event and we will have an Easter egg hunt!
In order for us to be able to plan how many people we expect, please RSVP below. We hope to see many of you there to celebrate diversity, community, unity and taste the dishes from a variety of nationalities we have at the lab.
Please RSVP if you plan to come.
When: Moday, April 2
Time: 5:30pm
Where: User's Center/Frontier Pub