Abhilash Yallappa Dombara
Grad Student, NOvA
Syracuse University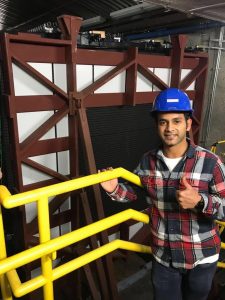 Hi ! I'm Abhilash, fourth year graduate student from Syracuse University working on the NOvA experiment. I have been part of the Fermilab's community for two years. I come from a small city with a lot of rocky mountains in south India. I moved to the US three years ago with a dream of becoming a physicist. I love traveling to new places, meeting new people and learning about their culture. I spent most of my last two semesters at Fermilab and absolutely fell in love with its rich diversity. I would like to continue FSPA's good work towards bringing the community together and creating a comfortable atmosphere for people to live and make their contribution to science. It would be my great pleasure to be part of FSPA and do my best to keep this community spirit alive.
If I get elected, I will not only emphasize on professional seminars but also on organizing cultural events to bring different cultures together. I would also like to organize star gazing parties and Outdoor adventures like hiking, camping and skiing.