Maria Martinez-Casales
Grad Student, NOvA
Iowa State University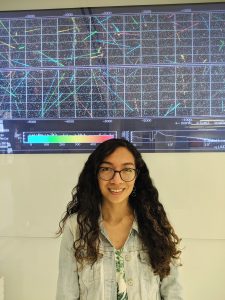 I am a student from Mexico, working in the NOvA experiment. Having lived as a foreign student, I realized the importance of having a welcoming and diverse environment. I have lived in the village for the past three months. During this time, I have appreciated and benefited from the work of FSPA to integrate students and postdocs coming from very different backgrounds and cultures. This is what makes Fermilab a unique place to do science.
My goal is to facilitate students to adapt to the life in Fermilab, both through professional development opportunities and social events. More importantly, I will be open to hearing your concerns and will do what's  possible to address these issues. In the past I have been part of similar organizations both as an undergrad and in my current institution, such as the Equity and Diversity Committee. I have had the opportunity to make a positive change towards a more welcoming environment, which is what I want to contribute for the Fermilab community.