Graduate student working with NOvA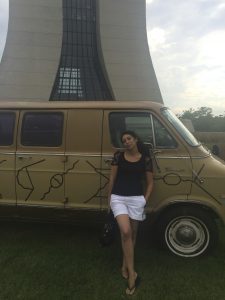 I have been coming to work at Fermilab for extended periods of time since 2008, both as an undergrad and now a graduate student. I have transitioned through programs and schools, from an undergrad in Mexico to a Master's student in Minnesota and now a PhD student in Indiana, but coming back to Fermilab has always been a constant, as it is for most of us throughout our careers. For many years the lab has been like a second home to me, both personally and academically, and a huge part of it comes from my experience with the community.
As an international student, one of the things which helped me adapt and made me really love Fermilab was my interaction with other students and postdocs who I met at the FSPA (formerly GSA) social events. FSPA not only makes these events possible but also makes sure that our voices are heard at the lab and in congress when it comes to important issues.
I currently work on the NOvA experiment. Last year I represented graduate students and postdocs in our Institutional Board serving as the Young NOvA representative and this year I have gotten some practice at organizing events and workshops as Young NOvA president. Through these experiences I have learned that there are always great ideas within the community already, whether they are ideas for events or to better our community, and that all it takes is listening to people and getting those new ideas pushed up to the right forums to make them come true.
I have been lucky to be part of the Fermilab community over the years and I would love to have the opportunity to give back by serving as an FSPA officer and helping to strengthen our graduate student and postdoc community.
Happy voting :)