*Please keep an eye on this space for the latest EDI Events*
Equity, Diversity, and Inclusion (EDI) Events
Abstract for series:
Recruiting from a maximally broad pool is consistent with Fermilab's mission and helps us identify the talent necessary for the lab's success. The laboratory hosts people with a wide range of backgrounds, ages, and nationalities. However, a lot of work needs to be done to recruit and retain groups that are traditionally underrepresented in science. The Equity, Diversity, and Inclusion (EDI) seminar series addresses this goal through a series of introductory talks, open to everyone at the lab. The seminar series will help us to better understand issues related to EDI, and will equip us with tools that can be incorporated in our daily lives. We can utilize these tools to become better allies to our coworkers, to recognize and correct for our own biases, and to help create an inclusive workplace.
Sponsored by FSPA and Fermilab Talent Acquisition, Diversity and Inclusion Office
Local organizing committee: Midhat Farooq, Sowjanya Gollapinni, Brian Nord, and Daniel Bowring
Inclusion Matters 2020 (June 15th, 2020)
FSPA will be hosting an Inclusion Matters 2020 talk on Monday, June 15th, from 12-1 pm CST. We are excited to welcome Erin Scanlon and Jackie Chini of the University of Central Florida who will speak to us about Physics and Disability: Supporting the Variety of Peoples' Needs, Abilities, and Interests.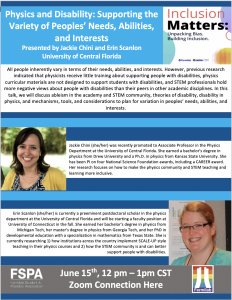 This Webinar was held on June 15th, 2020 in conjunction with the Inclusion Matters 2020 Series
Zoom Recording Part 1:
Zoom Recording Part 2:
Zoom Recording Part 3:
EDI 101: An Introduction to Equity, Diversity, and Inclusion (June 15th, 2018)
Speaker: Charee Mosby-Holloway
Director of Student D&I,
Columbia College Chicago
Abstract:
Organizational diversity efforts can be challenging for many reasons. The fear of saying or doing the wrong thing can be a barrier to engaging in meaningful dialogue around diversity and creating safe, welcoming work spaces. This interactive presentation will provide participants with a common vocabulary for engaging across difference, as well as cover introductory concepts related to diversity and inclusion.
About the Speaker:
Charee Dee Mosby-Holloway is an alumnus of the University of Notre Dame and the Ohio State University, and has been a Student Affairs practitioner and educator for over a decade. Her experience includes creating and facilitating diversity and social justice initiatives for students, faculty, staff, and community partners. Currently, Charee serves as the Director of Student Diversity and Inclusion at Columbia College Chicago.
Diversity and Inclusion: How to actively engage (July 23rd, 2018)
Speaker: Dr. Jesús Pando
Physics Department Chair and Professor
DePaul University
Abstract:
Diversity and inclusion are linked concepts that share many attributes but require distinct strategies. In this talk, I'll describe practical ways that can be used to recruit a diverse workforce such as the APS Bridge program. Strategies to create and foster an inclusive environment including understanding the local climate for underrepresented groups, becoming an advocate for and ally of minority scientists, and getting leadership to take diversity training will then be presented. The goal of this talk is to provide an array of ideas and strategies that can be implemented in the short and long terms to both diversify the workplace and create an inclusive environment.
About the Speaker:
Jesús Pando is the Chair of the physics department at DePaul University and has long been involved in efforts to increase the number of underrepresented groups in the sciences. He has been a member of the Society for the Advancement of Chicanos/Hispanics and Native Americans in Science (SACNAS) for 15 years and is a board member (Past President) of the National Society of Hispanic Physicists (NSHP). He  has served on numerous committees, panels, etc., dealing with the issues faced by underrepresented students and professionals in STEM fields.
"Don't talk about it, be about it": Ally is a verb (August 10th, 2018)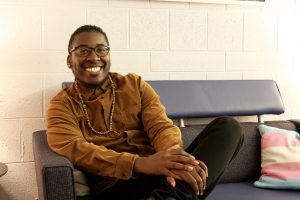 Speaker: Dr. S. Simmons
Educator and Consultant
Simmons Counseling and Consulting Services
Abstract:
We may have heard the word ally, but what does it really mean? How does one practice ally behaviors everyday, particularly in a STEM environment? In this session, we will explore the language and roles of allies and begin cultivating a commitment to gaining more awareness, knowledge, and skills towards social change. Through engagement and interactivity, participants will identify ways they can be an ally.
About the Speaker:
Black, trans*genderqueer, educator, advocate, spouse, friend, and Beyoncé fan are just some descriptors for Dr. S. Simmons. Dr. S. earned his B.S. and M.S. in Psychology from Iowa State University and PhD in Higher Education from Loyola University Chicago. S, as they are also affectionately called is the Co-Founder and Co-Owner of Simmons Counseling and Consulting Services and interim director of the Gender and Sexuality Center (GSC) at the University of Illinois at Chicago. S's scholarship and practice is informed by biopsychosocial ecological and intersectional frameworks and advocates for social change. Ask anyone who knows S and they will tell you S is passionate, caring, and educates with love.
Related Event: D&I Panel at New Perspectives Conference (June 18th, 2018)
The panel's purpose was to provide a place where early career users and employees of the lab could come together to learn from each other about the various D&I efforts across different institutions, and possibly get ideas to create their own and/or get involved in D&I.

Moderator: Midhat Farooq (left most), then Panelists (left to right): Hannah Binney, Cristina Schlesier, Nicole Neveu, and Joseph Grange
Organized and sponsored by FSPA
Related Event: Equity and Inclusion Talk at Users Meeting (June 21st, 2018)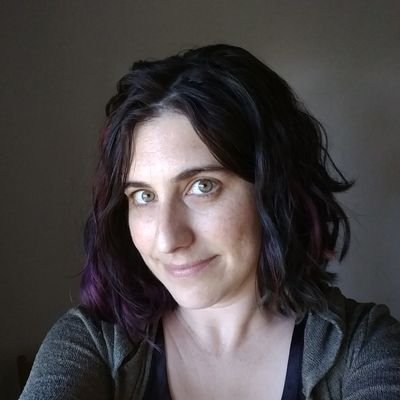 Speaker: Dr. Sarah Tuttle
Assistant Professor
University of Washington
Organized and sponsored by Users Executive Committee (UEC)
Each June, we celebrate Pride Month. If you'd like to learn more about this celebration, we have compiled a few links that you should feel free to read through:
We also encourage you all to check out the resources provided on the Spectrum webpage: 
https://diversity.fnal.gov/spectrum/
as well. Pride Month is for everyone. Be proud of who you are and celebrate it.